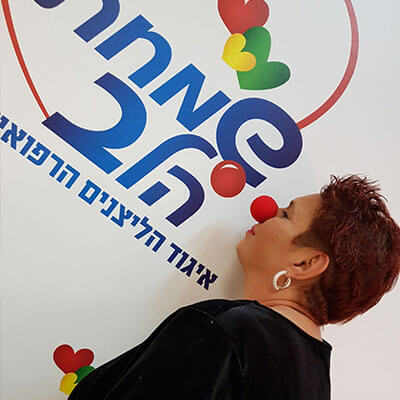 Pleased to meet you,
we are Simchat Halev!
Simchat Halev organization is all about improving patients healing process and quality of life by using joy and humor. In the past, there was no awareness to the power laughter has in improving health in a planned and preordained way, but today, these methods are very common in modern medical facilities. Our organization consists of people of different trades – some freelancers, others are company manager, educators and more – they all contribute their time to promote the organizations goals.
Simchat Halev is a public associations by section 46A for tax purposes, approved by the associations' registrar.
This is what we offer the
community & Society:
Medical Clowns -
Who specialize in therapy through imagination, humor and laughter, and function in medical and therapeutic facilities.

AppMedic -
Volunteers who come to hospital emergency rooms to accompany the patients personally and give them physical and mental support.
Live With The Joy Of The Heart -
Various activities with the community to improve the quality of life through joy - for adults, the elderly, disadvantaged youth, corporations and more.
Professional courses for doctors and nurses -
Equip them with practical tools from the world of medical clowning they can apply at work.
Rehabilitation Projects -
In cooperation with welfare groups, nursing homes, government ministries, special education and more.
Make the visit to hospitals and medical facilities a less traumatic and more experiential experience.
To improve the quality of life of all people in Israel by changing their mental state and strengthening their inner happiness as a counter-force to stress and anxiety.
ncrease the joy of hospitalized patients - children, adults and the elderly, thus helping their recovery.
Behind the "joy of the heart"
The joy of the heart was founded by Zvi Meir, a businessman and educator. In 2002, Zvi encountered the power of medical clowning when he saw the first medical clowns – Shlomi Algussi and Itzik the Clown, who works in the hospital. Zvi takes an active part in the operation to this day: he volunteers as an epidemiologist at Wolfson Hospital, and for the past 20 years he has been a paramedic of MDA with the first aid organization in Israel.
The organization's management:
Zvi Meir, Ayelet Malka and Shoshana Maman.
Members of the Board and a Presidential Member:
Hanoch Lavie – former "Bar Ilan" University Rector.
Judge Yaakov Ganan – former president of "Hashalom" court, Beer-Sheva.
Moshe Mendelbom – Former governor of the Bank of Israel.
Baruch Wallach – Children ward manager, Meir hospital.
Etti Granot – Children ward manager, Kaplan hospital.
A. Fishbine – Manager of the environmental health department.
Ami Balin – Children ward manager, Wolfson hospital.
Zion Huri – Children's intensive care unit manager, Wolfson.
Moshe Shrist – Emergency room manager, Wolfson Hospital.
Doron Garfinkel – Palliative medicine specialist.
Simchat Halev is a public associations by section 46A for tax purposes, approved by the associations' registrar.